Although there were times that 2020 seemed like it may never end, we made it. The holidays are officially over and it's finally time to bid adieu to 2020.
Like so much of the rest of this year, festivities on New Year's Eve in Denver are a bit strange. Fireworks and big parties are canceled all across the state, but there are still other, social-distancing-friendly ways to celebrate.
Here are our picks for the top ways to safely celebrate New Year's Eve in Denver. After all, 2020 really does deserve a proper sendoff. Plus, maybe this will be the start of a new tradition.
Social-distancing-friendly ideas for New Year's Eve in Denver
No matter what your budget or interests are, we've got you covered with ways to celebrate while keeping a safe distance.
Take a hike
New Year's Day hikes are traditionally very popular, but why not instead hit the trails on New Year's Eve in Denver?
There are several amazing hikes within a couple of hours of the Mile High City, but you don't necessarily even have to head out of town. We highly recommend Lair O' the Bear and The Bluffs Loop. Both of them are easy to moderate and are located within 30 minutes of downtown. Don't forget summit beers (in cans!) to send 2020 off with a proper toast.
Learn the art of sabrage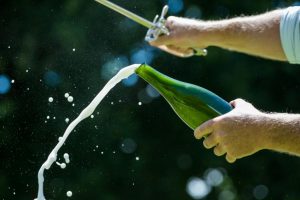 Sabrage is a method of opening a champagne bottle with a saber, otherwise known as a sword. It's super fancy and super badass, and Noble Riot wine bar will teach you how to do it.
For $59 per person, participants receive a bottle of bubbly, a saber, and access to a virtual sabrage class led by Noble Riot experts. Order online ahead of time for pickup on New Year's Eve in Denver. The class runs from 9:30 PM to midnight and champagne upgrades are available.
"Putt" your golf skills to the test
Holiday Lights Mini Golf at Adventure Golf and Raceway is a longstanding Denver tradition. From 5-9:00 PM on New Year's Eve, play a round of mini-golf under over 100,000-holiday lights.
Guests of all ages can walk through the interactive light displays across all three mini-golf courses. Hot cocoa, "adult hot cocoa," and light snacks are also available.
Dine-in an igloo, yurt, or greenhouse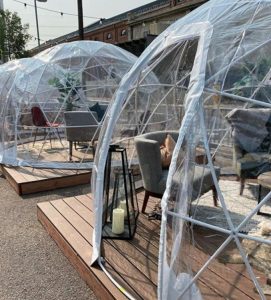 Supporting local small businesses has never been more important, and New Year's Eve in Denver is a perfect opportunity to do just that. Several restaurants have come up with extremely creative ways for guests to safely and comfortably dine outside.
My Brother's Bar, which bills itself as "the oldest bar in Denver," built a series of heated igloos with ultra-stylish decor. Over in the Highlands, family-owned Spuntino constructed a beautiful all'aperto, or open-air, dining tent.
If brunch is more your jam, Annette in Aurora will serve a Scandinavian-themed New Year's Eve brunch in individually heated greenhouses, complete with old-fashioned Swedish glogg. Reservations are required.
Stay in
"Doing something" on New Year's Eve in Denver doesn't technically have to mean going out. Many fantastic local restaurants are offering special New Year's Eve takeout packages. Consider inviting a couple of friends over, having an at-home dinner party, and watching the ball drop from the comfort of your living room. Here are a few of our top picks:
Tavernetta: Order the NYE box, which includes a bottle of 2009 Dom Perignon, black truffle butter & Parmigiano-Reggiano popcorn, and party favors for four.
Sushi Den: The limited-edition Holiday bento box for two includes sushi, sashimi, appetizers, and even dessert.
Local Jones: Located at the Halcyon hotel, Local Jones has upscale New Year's Eve party platters. Feed your crew with a shrimp cocktail, charcuterie, salad, olives, and a bottle of Nicolas Feuillatte Champagne. You can also book a room to turn New Year's Eve in Denver into a staycation.
Do you have New Year's Eve plans yet? Whatever you do (even if it's staying in!), be safe and have fun! For more news and happenings all around Colorado, be sure to check out some of our other articles and follow us on Instagram @riverbeatscolorado. Happy new year!
---
From the River Beats Colorado team: 2020 has been a very challenging time for travel, adventure, and events around our state. While we're aware these uncertain times may limit many aspects of life, we hope our editorials provide helpful tips while ensuring safe social and physical distancing.