Cervantes Masterpiece Ballroom and River Beats are preparing for winter with a fresh cast for SHIFT Thursday! For November's SHIFT lineup, we've gathered an eclectic group of artists pushing boundaries in their respective environments.
Following October's full-throttle bass music showcase, we're shifting gears and can't wait to kick things off on November 4! While there are only three SHIFT Thursdays this month, we have a special treat for those in town Wednesday, November 24 with Break Science!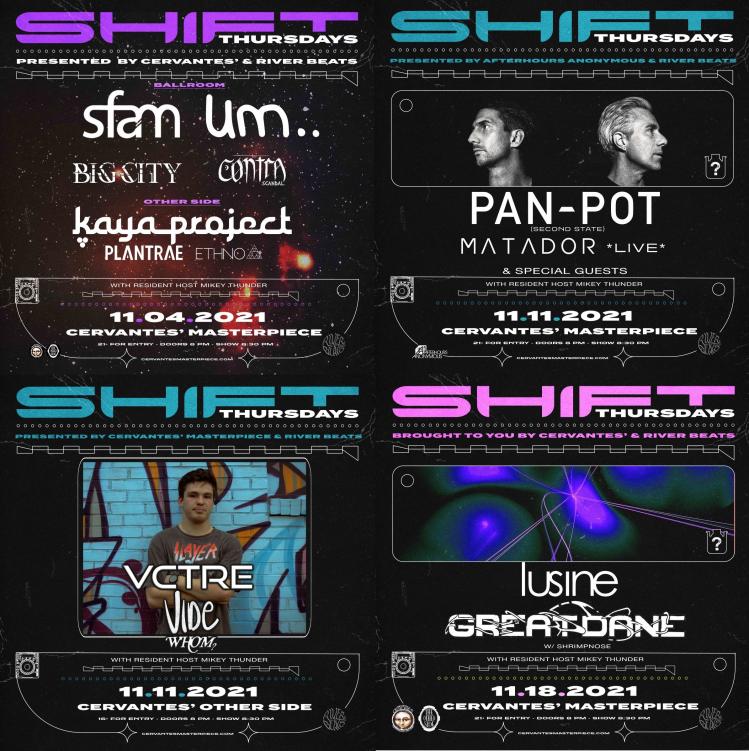 Feeling the SHIFT of Winter
First up, the dynamic duo sfam from New Orleans makes their way to SHIFT on November 4! Blending elements of minimal trap and heavy bass gathered support from pioneers in the respective genres. Joining them in the Masterpiece Ballroom, Um.., Big City, and Contra Scandal prepare for a low-frequency exploration.
Meanwhile, on The Other Side, prepare to be taken on a journey across the globe through sound. Kaya Project joins the SHIFT Alumni with their fusion of world music and electronic production. Supports Plantrae and ETHNO will undoubtedly leave a mark creating their own soundscapes inspired by their travels.
On November 11, Second State Audio leads Pan-Pot hail all the way from Germany! The techno legends use their polar opposite personalities to create intense energy in their production. Ireland's Matador brings a special live set to kick things off!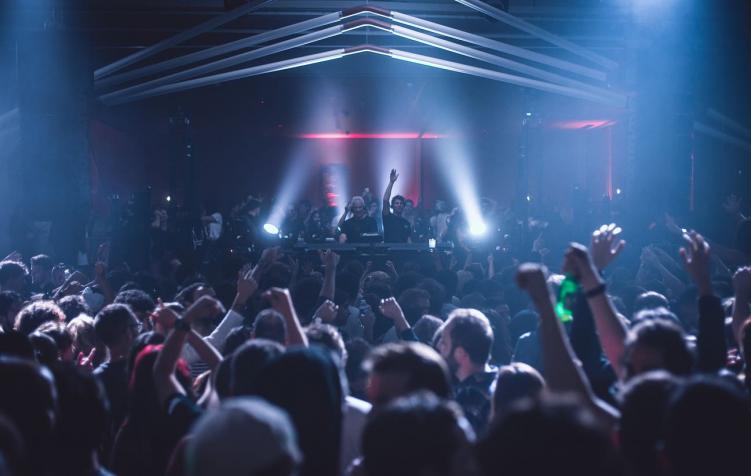 For those still looking for bass, VCTRE makes his return to Cervantes The Other Side fresh off a tour with legendary Minnesota. Making waves across the country, VCTRE mixes his southern swagger with intricate texturing and punching basslines to set himself apart from the crowd.
Vide and WHOM? will set the vibe for the evening with a perfect combination of minimalism and precise percussion.
Just a Cloud
Following one of the most unique performances we've seen in some time at Resonance, Lusine is welcomed to SHIFT on November 18! His complex yet subtle take creates a joyful experience. Make sure to arrive early for Great Dane and Shrimpnose!
For Thanksgiving weekend, we couldn't send Denver on vacation properly without the help of Break Science! As a special treat, the boys of Break Science return to Cervantes Wednesday, November 24.
While the temperatures are dropping, we're just getting heated up! Don't forget to catch a breath of fresh air on the patio, with vendors and a silent disco from 9-12.
Get Involved with SHIFT
Applications are open for vendors, live painters, and silent disco performers. Interested creators apply at the links below!
In due time, we will continue to announce more SHIFT Thursdays for Winter 2021 and beyond! Stay tuned for more information about our collaborations with visual artists & live performers.
We are incredibly excited about this new chapter for Cervantes, River Beats, and the city of Denver, and we can't wait for you to see it all come together!
For media inquiries, please reach out to: ShiftCervantes@gmail.com